Meatless Monday, Taco Tuesday, Waffle Wednesday – oh my!
Honestly, I find all of those themed categories to be overwhelming. I always start out meal planning with the best of intentions… but I'm also impulsive with cooking and eating! I usually end up moving things around because it feels more like soup weather on Monday versus Tuesday or I decide that I don't want to wait until Thursday for tacos (picture shrugging girl emoji!).
Moral of the story? This isn't a meal planning pitch. In fact, it's a call for help! How do keep your weekly meals in check/on track? What are your go-to recipes? I can't remember the last time we actually followed a set schedule of meals. We usually have basics on hand for last-minute, fast dinners like pasta or ground turkey tacos, and then we'll rotate some new recipes or other favorites in each week. I'm always in need of inspiration, but now I often have tiny toddler hands reaching for everything I'm cooking and demanding my full attention while water boils over! That means my recipe criteria requires minimal prep and even less hands-on cooking time.
So, if you're in need of dinner inspiration too, or just want to try a new easy recipe this week, below are some favorites that we've had in rotation lately. Please share any of your family favorites (or tips for distracting a toddler while cooking!) in the comments!
Vegetarian lettuce wraps from the Pioneer Woman
Spicy Peanut Soup with Sweet Potato and Kale from PinchofYum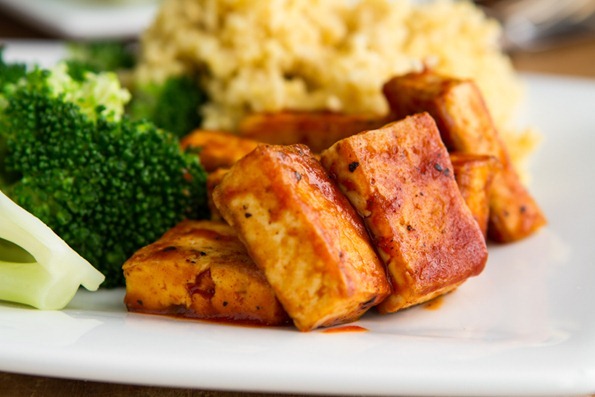 BBQ Tofu with roasted veggies and potatoes from OhSheGlows
Asian Chicken Noodle Soup from EatLiveRun